Railway Plan for the proposed Edinburgh & Northern Railway (Cupar to Ferry-Port-on-Craig and Newport extension), November 1845
Plan of Part of Newport in 1845
Background information about railway plans is in the blog - Big Plans.
Edinburgh & Northern Railway. This proposed branch terminated at Newport Ferry Pier. At the Ferry-Port-On-Craig (Tayport) end it would continue to Leuchars and then to Cupar.
The Edinburgh & Northern Railway Company proposed, in November 1845, a branch to run from Cupar through Ferry-Port-on-Craig (Tayport), then along the coast to a terminus at the Newport ferry. It was one of many branches and proposals made by the company at this time. This part of the line was never built, instead a large harbour was built at Tayport and roll-on, roll-off train ferries (designed by Thomas Bouch) operated across the river.
The sketch map below is taken from the Edinburgh & Northern Railway (Cupar to Ferry-Port-on-Craig and Newport extension) plans, November 1845, at the National Records of Scotland, ref. RHP85261.
The solid red line indicates the positon of the proposed railway line. Apart from this, the plans show who owned, lived in, and had an interest in, every property along the proposed line. The properties are limited in scope to a small distance on either side of the railway line (the 'limits of deviation' - shown by red dashed lines), which is why some buildings are detailed on these plans while others, which are possibly more important, are not mentioned.
The numbers refer to the details given in the accompanying Book of Reference, given below.
There is another plan of this area for part of the Glasgow and Dundee Junction Railway.
[The map below covers the area from William Street on the east, to the foot of Boat Brae on the west. No. 63 is the Newport Hotel.]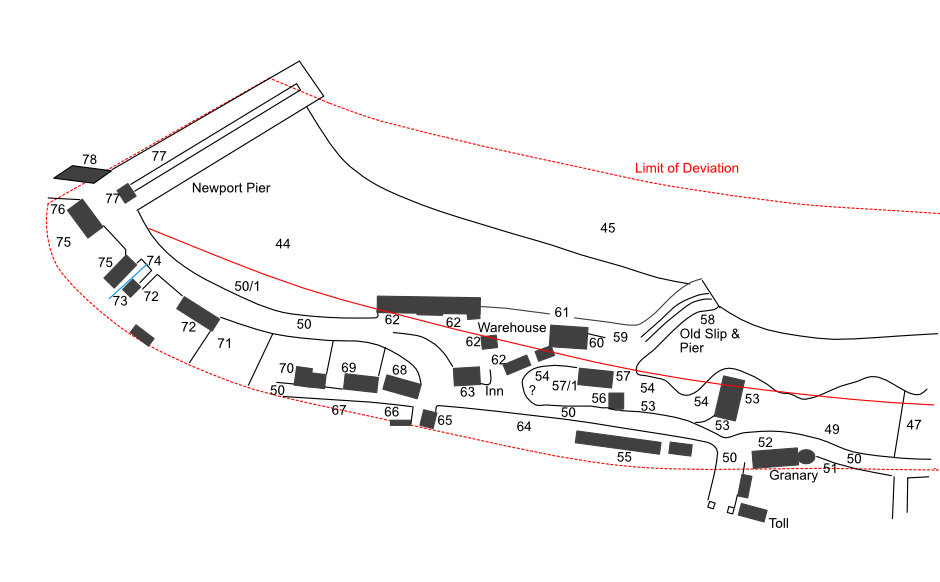 There is a ? shown just east of 63, Inn (actually Newport Hotel). On the original this is given as 45 - which it cannot be, as this refers to land below low water. A mystery.
| Ref | Description | Owner or reputed owner | Occupier | [Comments] |
| --- | --- | --- | --- | --- |
| 44 | Ground covered by high water | The Crown, or the Lords of the Admiralty, or William Berry, James Wilson, the Scottish Central Railway Co & John Rogers | The Owners and the Public | |
| 45 | Ground under low water | The Crown, or the Lords of the Admiralty, or William Berry, James Wilson, the Scottish Central Railway Co | The Owners and the Public | |
| 46 | Dwelling houses, outhouses, garden ground, pasture ground, sea braes & private road | William Berry | James Wilson (lessee & occupier), John Harris (occupier) | [not shown. Kempstane] |
| 47 | Bleaching green, pasture ground, sea braes or common, 2 wells, bathing house & rocks | William Berry | The Owner, William Turnbull, James Wilson, John Harris and the Public | [Ran from the foot of William St to just past the foot of James St] |
| 48 | Salmon fishings | William Berry | Alexander Harris | [not shown] |
| 49 | Pasture ground and sea braes | William Berry | Mrs Anne Brand | |
| 50 | Turnpike road | Trustees of Turnpike Roads, St Andrews District | William Stobie, tacksman of tolls (lessee); the Public (occupiers) | |
| 50/1 | Sea wall | Trustees of Turnpike Roads, St Andrews District or Trustees of Tay Ferries, or Scottish Central Railway Co | | |
| 51 | Stackyard | William Berry | Charles Mitchell (lessee & occupier) | |
| 52 | Mill shed, stables, outhouses and court | William Berry | Charles Mitchell (lessee & occupier) | [On the corner of Tay St and Cupar Rd] |
| 53 | Granary and private roads | William Berry (superior); James Wilson (proprietor) | James Wilson & John Aymer | [Opposite the bottom of the Cupar Rd] |
| 54 | Braes & pasture | William Berry | Mrs Anne Brand | |
| 55 | Dwelling houses & garden ground | William Berry | William Turnbull, John Bell, Alexander Milne, Alexander Harris, Mrs Menzies Mackie, John Kidd, Thomas Pinn & Mrs Catherine Brown | [At the top of the High St] |
| 56 | Old lock-up house | William Berry | Unoccupied | [Site of 13/15 High St] |
| 57 | Stable | William Berry | Michael Smith | |
| 57/1 | Coal shed | William Berry | David Spence | |
| 58 | Old pier | William Berry | The Public | [Old Pier] |
| 59 | Occupation or servitude road, pier-head and ground | William Berry | The Public | |
| 60 | Granaries | William Berry | James Bogie, James Lindsay, & part unoccupied | |
| 61 | Sea wall | William Berry | | |
| 62 | Stables, coach houses, sheds, cellars, areas, or vacant ground, stable-yard, court & private road | William Berry | Charles Mitchell (lessee & occupier) | |
| 63 | Dwelling house, outhouses and water cistern | William Berry | Charles Mitchell (lessee & occupier) | [Newport Hotel] |
| 64 | Garden ground | William Berry | Charles Mitchell (lessee & occupier) | [Bottom half of the High St; ground let with Newport Hotel] |
| 65 | Dwelling house, garden & private road | William Berry | Mrs Anne Brand | [4/6 High St] |
| 66 | Dwelling house | William Berry | Mrs Margaret Foreman or Henderson, and part unoccupied | [Demolished, site of shed at 4/6 High St] |
| 67 | Arable ground | William Berry | William Berry | |
| 68 | Dwelling house, garden and area | William Berry | Mrs Margaret Foreman or Henderson, and Charles Mitchell | [Old St David's Inn, site of Trinity Church] |
| 69 | Dwelling house & gardens | William Berry | Margaret Meldrum, John Duncan, Alexander Moir and Thomas Clark | |
| 70 | Dwelling house, garden, private road & well | William Berry | James Smith | [Chapel House] |
| 71 | Garden ground | William Berry | John Just (lessee & occupier) | [Seamills] |
| 72 | Dwelling house, kiln, shed, outhouses, courts, ground & private roads | William Berry | John Just (lessee & occupier) | [Seamills] |
| 73 | Barley mill, meal mill, area & private road | William Berry | John Just (lessee & occupier) | [Seamills] |
| 74 | Mill lade & mill race | William Berry | John Just (lessee & occupier) | [Seamills] |
| 75 | Warehouse, granary, ground & shed | William Berry | Mrs Anne Brand (lessee & occupier), the Scottish Central Railway Co (occupier), & part unoccupied | |
| 76 | Dwelling house | William Berry | Charles Mitchell (lessee & occupier) | |
| 77 | Passage pier & shed | Trustees of the Tay Ferries; or the Scottish Central Railway Co | The Owners & the Public | [Ferry Pier] |
| 78 | Coal sheds | Trustees of the Tay Ferries; or the Scottish Central Railway Co | The Owners | |
Return to: Home Page Railway Plans