Location : 7 Mount Stewart Road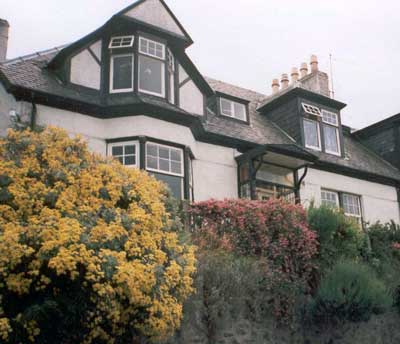 No Streetview? click www.newportarchive.co.uk

= Property still standing
Notes:
Part of a previously single property. Other parts: 1 Hillpark Terrace
Introduction
Original property extended south and incorporated with 2 stables to create 2 semi-detached properties c.1903.
Location and Old Maps
Latitude, longitude: 56.423423,-2.980273
View location on the 1855 6-inch map, the 1895 25-inch map, the 1966 25-inch map, or a 1944-50 aerial photograph at the National Library of Scotland website.
Nearby properties (demolished in red): 1 Hillpark Terrace 2 Hillpark Terrace 4 Hillpark Terrace 6 Hillpark Terrace 9 Mount Stewart Road 10 Mount Stewart Road 12 Mount Stewart Road 21 Naughton Road 23 Naughton Road
Old Addresses (any dates are approximate and are usually the latest occurence of the address)
House Names (any dates are approximate and are usually the latest occurence of the name)
| | | |
| --- | --- | --- |
| Fairview | | |
| Tayview | 1907 | |
| Crossmount | to 1905 | |
Directory entries (before 1970) There are 97 entries
Source
Entry
1969 dir
Milne, Mrs J. Fyfe, 7 Mount Stewart Road, Wormit
1969 dir
Schofield, Miss Alice, Fairview, 7 Mount Stewart Road, Wormit
1969 dir
Schofield, A. H., 7 Mount Stewart Road, Wormit; Secretary [under Wormit, Newport And District Transport Action Committee]
1968 dir
Schofield, A. H., 7 Mount Stewart Road, Wormit; Secretary, [under Wormit, Newport And District Transport Action Committee]
1968 dir
Schofield, Miss Alice, Fairview, 7 Mount Stewart Road, Wormit
1968 dir
Milne, Mrs J. Fyfe, 7 Mount Stewart Road, Wormit
1967 dir
Schofield, Miss Alice, Fairview, 7 Mount Stewart road, Wormit
1967 dir
Milne, Mrs J. Fyfe, 7 Mount Stewart road, Wormit
1966 dir
Schofield, Miss Alice, Fairview, 7 Mount Stewart road, Wormit
1966 dir
Milne, Mrs J. Fyfe, 7 Mount Stewart road, Wormit
1965 dir
Schofield, Miss Alice, Fairview, Hillview terrace, Wormit
1965 dir
Milne, Mrs J. Fyfe, 7 Mount Stewart road, Wormit
1964 dir
Milne, Mrs J. Fyfe, Fairview, Mount Stewart road, Wormit
1964 dir
Schofield, Miss Alice, Fairview, Hillview terrace, Wormit
1963 dir
Milne, Mrs J. Fyfe, Fairview, Mount Stewart road, Wormit
1963 dir
Schofield, Miss Alice, Fairview, Hillview terrace, Wormit
1962 dir
Milne, Mrs J. Fyfe, Fairview, Mount Stewart road, Wormit
1962 dir
Schofield, Miss Alice, Fairview, Hillview terrace, Wormit
1961 dir
Milne, Mrs J. Fyfe, Fairview, Mount Stewart road, Wormit
1961 dir
Schofield, Miss Alice, Fairview, Hillview terrace, Wormit
1960 dir
Milne, Mrs J. Fyfe, Fairview, Mount Stewart road, Wormit
1958-59 dir
Milne, Mrs J. Fyfe, Fairview, Mount Stewart road, Wormit
1957-58 dir
Milne, Mrs J. Fyfe, Fairview, Mount Stewart road, Wormit
1956-57 dir
Milne, Mrs J. Fyfe, Fairview, Mount Stewart road, Wormit
1955-56 dir
Milne, Mrs J. Fyfe, Fairview, Mount Stewart road, Wormit
1954-55 dir
Milne, Mrs J. Fyfe, Fairview, Mount Stewart road, Wormit
1953-54 dir
Milne, Mrs J. Fyfe, Fairview, Mount Stewart road, Wormit
1952-53 dir
Milne, Mrs J. Fyfe, Fairview, Mount Stewart road, Wormit
1951-52 dir
Milne, Mrs J. Fyfe, Fairview, Mount Stewart road, Wormit
1950-51 dir
Milne, Mrs J. Fyfe, Fairview, Mount Stewart road, Wormit
1949-50 dir
Milne, Mrs J. Fyfe, Fairview, Mount Stewart road, Wormit
1948-49 dir
Milne, Mrs J. Fyfe, Fairview, Mount Stewart road, Wormit
1947-48 dir
Milne, Mrs J. Fyfe, Fairview, Mount Stewart road, Wormit
1946-47 dir
Milne, Mrs J. Fyfe, Fairview, Mount Stewart road, Wormit
1942-43 dir
Milne, J. Fyfe, Fairview, Mount Stewart road, Wormit
1941-42 dir
Milne, J. Fyfe (banker, Dundee), Fairview, Mount Stewart rd., Wormit
1940-41 dir
Milne, J. Fyfe (banker, Dundee), Fairview, Mount Stewart rd., Wormit
1939-40 dir
Milne, J. Fyfe (banker, Dundee), Fairview, Mount Stewart rd., Wormit
1938-39 dir
Milne, J. Fyfe (banker, Dundee), Fairview, Mount Stewart rd., Wormit
1937-38 dir
Milne, J. Fyfe (banker, Dundee), Fairview, Mount Stewart rd., Wormit
1936-37 dir
Milne, J. Fyfe (banker, Dundee), Fairview, Mount Stewart rd., Wormit
1935-36 dir
Milne, J. Fyfe (banker, Dundee), Fairview, Mount Stewart rd., Wormit
1934-35 MacDonald dir
Harley, Mrs, Fairview, Wormit
1934-35 dir
Milne, J. Fyfe (banker, Dundee), Fairview, Mount Stewart rd., Wormit
1933-34 MacDonald dir
Harley, Mrs, Fairview, Wormit
1932-33 dir
Harley, Mrs Edward, Fairview, Mount Stewart road, Wormit
1931-32 dir
Harley, Mrs Edward, Fairview, Mount Stewart road, Wormit
1930-31 dir
Harley, Edward, Fairview, Mount Stewart road, Wormit
1929-30 dir
Harley, Edward, Fairview, Mount Stuart road, Wormit
1925-26 MacDonald dir
Lundie, W., Fairview, Wormit
1924-25 MacDonald dir
Lundie. W., Fairview, Wormit
1923-24 MacDonald dir
Lundie, W., Fairview, Wormit
1923-24 dir
Lundie, William L. (stationer, Dundee), Fairview, Mount Stuart road, Wormit
1922-23 dir
Lundie, William L. (stationer, Dundee), Fairview, Mount Stuart road, Wormit
1921-22 MacDonald dir
Kinnear, P. M., Fairview, Wormit
1920-21 dir
Kinnear, Peter M. (millmanager, Dundee), Fairview, Mount Stuart rd., Wormit
1919-20 MacDonald dir
Kinnear, P. M., Fairview, Wormit
1918-19 MacDonald dir
Kinnear, P. M., Fairview, Wormit
1918-19 dir
Kinnear, Peter M. (millmanager, Dundee), Fairview, Mount Stuart rd., Wormit
1917-18 MacDonald dir
Kinnear, P. M., Fairview, Wormit
1916-17 MacDonald dir
Kinnear, P. M., Fairview, Wormit
1915-16 MacDonald dir
Carstens, W., Fairview, Wormit
1915-16 dir
Carstens, William, Fairview, Wormit
1915 Slater dir
Kinnear Mrs. Fairview [under Wormit]
1914-15 MacDonald dir
Carstens, W., Fairview, Wormit
1914-15 dir
Carstens, William, Fairview, Wormit
1913-14 MacDonald dir
Carstens, W., Fairview, Wormit
1913-14 dir
Carstens, William, Fairview, Wormit
1912-13 dir
Carstens, William, Fairview, Wormit
1911-12 dir
Carstens, William, Fairview, Wormit
1911 Slater dir
Carstens William, Fairview [under Wormit]
1910-11 dir
Carstens, William, Fairview, Wormit
1909-10 MacDonald dir
Laird, Mrs, Fairview, Wormit
1909-10 dir
Carstens, William, Fairview, Wormit
1909-10 dir
Laird, Mrs R. B., Fairview, Wormit
1908-09 dir
Laird, Mrs R. B., Fairview, Wormit
1908 Tayside Annual
Prophet, Mrs Christina, Crossmount. [in Wormit directory]
1907-08 MacDonald dir
Prophet, Mrs, Crossmount, Wormit
1907 Tayside Annual
Prophet, Mrs Christina, Crossmount. [in Wormit directory]
1906-07 MacDonald dir
Prophet, Mrs, Crossmount, Wormit
1904-05 dir
Stewart, Alexander (builder, Dundee), Crossmount, Wormit
1903-04 dir
Stewart, Alexander (builder, Dundee), Crossmount, Wormit
1903 Slater dir
Stewart Alexander, Cross mount, Wormit
1902-03 dir
Stewart, Alexander (builder, Dundee), Crossmount, Wormit
1902-03 dir
M'Laren, Miss, Crossmount, Wormit
1901-02 dir
Stewart, Alexander (builder, Dundee), Crossmount, Wormit
1901-02 dir
M'Laren, Miss, Crossmount, Wormit
1900-01 dir
M'Laren, Miss, Crossmount, Wormit
1900-01 dir
Stewart, Alexander (builder, Dundee), Crossmount, Wormit
1899-00 dir
Stewart, Alexander (joiner and builder, Dundee), Crossmount, Wormit
1899 Slater dir
Stewart Alexander. Cross mount [under Wormit]
1898-99 dir
Stewart, Alexander (joiner and builder, Dundee), Crossmount, Wormit
1897-98 dir
Stewart, Alexander (joiner and builder, Dundee), Crossmount, Wormit
1896-97 dir
Stewart, Alexander (joiner and builder, Dundee), Crossmount, Wormit
1896 Slater dir
Stewart Alexander, Crossmount [under Wormit]
1895-96 dir
Stewart, Alexander (joiner and builder, Dundee), Crossmount, Wormit
1894-95 dir
Stewart, Alexander (joiner and builder, Dundee), Crossmount, Wormit
Census records
Year
Head
Notes
1911
Carstens
William
1901
Stewart
Alexander
View household
Valuation Roll entries There are 19 entries
| Year | No. | Property | Proprietor | Tenant | Occupier | Value | | |
| --- | --- | --- | --- | --- | --- | --- | --- | --- |
| 1967-68 | 1344 | House & Garage | Mrs Margaret E Milne | | proprietor | 90 | View details | |
| 1964-65 | 1344 | House & Garage | Mrs Margaret E Milne | | proprietor | 87 | View details | |
| 1961-62 | 4104 | House | Mrs Margaret E Milne | | proprietor | 82 | View details | |
| 1957-58 | 1409 | House & Garden | Mrs Margaret E Milne | | proprietor | 44 | View details | |
| 1952-53 | 1375 | House | Mrs Margaret E Milne | | proprietor | 44 | View details | |
| 1947-48 | 1339 | House | Mrs Margaret E Milne | | proprietor | 44 | View details | |
| 1942-43 | 1317 | House | Margaret E wife of John F Milne, bank teller | | said John F Milne | 44 | View details | |
| 1937-38 | 1334 | House | Margaret E wife of John F Milne, bank teller | | said John F Milne | 44 | View details | |
| 1932-33 | 1270 | House | Mrs Allison C Harley per John R Strachan, solicitor, Dundee | | proprietor | 44 | View details | |
| 1927-28 | 1245 | House | Wilfred H Lundie, c/o R H Lundie, 35 Reform St, Dundee | | Herbert Geddes | 44 | View details | |
| 1922-23 | 1193 | House | Wilfred H Lundie, wholesale stationer, 18 Airlie Place, Dundee | | proprietor | 39 | View details | |
| 1917-18 | 1169 | House | Reps of Isabella Williamson Maclaren & Mrs Elizabeth Stewart per Stevenson & Johnston, 46 Reform St, Dundee | P M Kinnear, mill manager | same | 30 | View details | |
| 1912-13 | 1182 | House | Reps of Isabella Williamson Maclaren, & Elizabeth, wife of Alexander Stewart, builder, Dundee per Stevenson & Johnston, 46 Reform St, Dundee | William Carstens, merchant | same | 30 | View details | |
| 1907-08 | 1138 | House | Reps of Isabella Williamson Maclaren & Mrs Eliz. Douglas Maclaren wife of Alex. Stewart, builder, Dundee per J G Gilchrist, solicitor, 9 Ward Rd, Dundee | Mrs Christina Prophet | same | 30 | View details | |
| 1903-04 | 1091 | House and Garden | Reps of Isabella Williamson Maclaren & Mrs Elizabeth Douglas Maclaren wife of Alexander Stewart, builder, Dundee per Fairweather & Gilchrist, solicitors, Dundee | | Mrs Elizabeth D Stewart | 25 | View details | |
| 1900-01 | 261 | House and Garden | Isabella Williamson Maclaren & Mrs Elizabeth Douglas Maclaren wife of Alexander Stewart, builder, Dundee per Fairweather & Gilchrist, solicitors, Dundee | | proprietor | 25 | View details | |
| 1898-99 | 244 | House and Garden | Isabella Williamson McLaren & Mrs Elizabeth Douglas McLaren wife of Alex Stewart builder, Dundee per Fairweather & Gilchrist, Dundee | | said Isa W MacLaren | 25 | View details | |
| 1896-97 | 230 | House and Garden | Mrs Isabella Williamson Maclaren & Mrs Elizabeth Douglas Maclaren wife of Alexander Stewart, builder, Dundee per Fairweather & Gilchrist, solicitors, Dundee | | said Isa W Maclaren | 25 | View details | |
| 1893-94 | 269 | House and Garden | Mrs Isa W Maclaren & Mrs Elizabeth Douglas Maclaren or Stewart wife of Alexander Stewart, joiner, Dundee | | proprietor | 25 | View details | |
Early Sasines:
Return to: Home Page Present-day Addresses Properties Map Old House Names Directories Valuation Rolls Sasines Census