Location : 2 Gowrie Street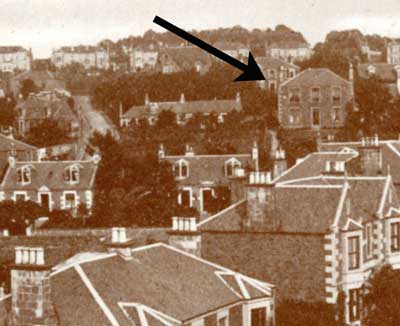 = Property still standing
Data linkage to other information currently on this site is practically complete. For Directory entries, Census records and Valuation Roll entries, there may be a few other entries not listed here.
Notes:
Other properties at the same location : 4 Gowrie Street
Using the information here, it is impossible to be certain who lived in each property or part of the building before 1957. Other properties involved : 4 Gowrie St One possible interpretation is given below.
1910 Valuation Act ref. no. : 238
Location and Old Maps
Latitude, longitude: 56.440247,-2.937524
View location on the 1855 6-inch map, the 1895 25-inch map, or a 1944-50 aerial photograph at the National Library of Scotland website.
Old Addresses (any dates are approximate and are usually the latest occurence of the address)
House Names (any dates are approximate and are usually the latest occurence of the name)
| | | |
| --- | --- | --- |
| Bloomfield | | |
| Bloomfield House | | |
Directory entries (before 1968) There are 107 entries
Source
Entry
1967 dir
Montgomery, Thomas, 2 Gowrie street
1966 dir
Montgomery, Thomas, 2 Gowrie street
1965 dir
Willock, Miss Catherine B., 2 Gowrie street
1964 dir
Willock, Miss Catherine B., Bloomfield, Gowriehill
1963 dir
Willock, Miss Catherine B., Bloomfield, Gowriehill
1962 dir
Willock, Miss Catherine B., Bloomfield, Gowriehill
1961 dir
Willock, Miss Catherine B., Bloomfield, Gowriehill
1960 dir
Willock, Miss Catherine B., Bloomfield, Gowriehill
1958-59 dir
Willock, Miss Catherine B., Bloomfield, Gowriehill
1957-58 dir
Willock, Miss Catherine B., Bloomfield, Gowriehill
1956-57 dir
Willock, Miss Catherine B., Bloomfield, Gowriehill
1955-56 dir
Willock, Miss Catherine B., Bloomfield, Gowriehill, East Newport
1954-55 dir
Willock, Miss Catherine B., Bloomfield, Gowriehill, East Newport
1953-54 dir
Willock, Miss Catherine B., Bloomfield, Gowriehill, East Newport
1952-53 dir
Willock, Miss Catherine B., Bloomfield, Gowriehill, East Newport
1951-52 dir
Willock, Miss Catherine B., Bloomfield, Gowriehill, East Newport
1950-51 dir
Willock, Miss Catherine B., Bloomfield, Gowriehill, East Newport
1949-50 dir
Willock, Miss Catherine B., Bloomfield, Gowriehill, East Newport
1948-49 dir
Willock, Miss Catherine B., Bloomfield, Gowriehill, East Newport
1947-48 dir
Willock, Miss Catherine B., Bloomfield, Gowriehill, East Newport
1946-47 dir
Willock, Miss Catherine B., Bloomfield, Gowriehill, East Newport
1942-43 MacDonald dir
Willock, Miss, Bloomfield, E. N.
1942-43 dir
Willock, Miss Catherine B., Bloomfield, Gowriehill, East Newport
1941-42 MacDonald dir
Willock, Miss, Bloomfield, E. N.
1941-42 dir
Willock, Miss Catherine B., Bloomfield, Gowriehill, East Newport
1940-41 MacDonald dir
Willock, Miss, Bloomfield, E. N.
1940-41 dir
Willock, Miss Catherine B., Bloomfield, Gowriehill, East Newport
1939-40 MacDonald dir
Willock, Miss. Bloomfield, E. N.
1939-40 dir
Willock, Miss Catherine B., Bloomfield, Gowriehill, East Newport
1938-39 MacDonald dir
Willock, Miss, Bloomfield, E. N.
1938-39 dir
Willock, Miss Catherine B., Bloomfield, Gowriehill, East Newport
1937-38 MacDonald dir
Willock, Miss, Bloomfield, E. N.
1937-38 dir
Willock, Miss Catherine B., Bloomfield, Gowriehill, East Newport
1936-37 MacDonald dir
Willock, Miss, Bloomfield, E. N.
1936-37 dir
Willock, Miss Catherine B., Bloomfield, Gowriehill, East Newport
1935-36 MacDonald dir
Willock, Miss, Bloomfield, E. N.
1935-36 dir
Willock, Miss Catherine B., Bloomfield, Gowriehill, East Newport
1934-35 MacDonald dir
Willock, Miss, Bloomfield, E. N.
1934-35 dir
Willock, Miss Catherine B., Bloomfield, Gowriehill, East Newport
1933-34 MacDonald dir
Willock, Miss, Bloomfield, E. N.
1933-34 dir
Willock, Miss Catherine B., Bloomfield, Gowriehill, East Newport
1932-33 dir
Willock, Miss Catherine B., Bloomfield, Gowriehill, East Newport
1931-32 MacDonald dir
Willock, Miss. Bloomfield, E. N.
1931-32 dir
Willock, Miss Catherine B., Bloomfield, Gowriehill, East Newport
1930-31 MacDonald dir
Willock, Miss, Bloomfield, E. N.
1930-31 dir
Willock, Miss Catherine B., Bloomfield, Gowriehill, East Newport
1929-30 MacDonald dir
Willock, Miss, Bloomfield, E. N.
1929-30 dir
Willock, Miss Catherine B., Bloomfield, Gowriehill, East Newport
1928-29 MacDonald dir
Willock, Miss, Bloomfield, E. N.
1928-29 dir
Willock, Miss Catherine B., Bloomfield, Gowriehill, East Newport
1927-28 MacDonald dir
Willock, Miss, Bloomfield, E. N.
1926-27 MacDonald dir
Willock, Miss, Bloomfield, E. N.
1925-26 MacDonald dir
Behrens, G., Bloomfield, E. N.
1924-25 MacDonald dir
Behrens, G., Bloomfield, E. N.
1923-24 MacDonald dir
Behrens, G., Bloomfield, E. N.
1923-24 dir
Behrens, George (bank clerk, Dundee), Gowriehill, East Newport
1922-23 dir
Behrens, George (bank clerk, Dundee), Gowriehill, East Newport
1921 Slater dir
Behrens George, Bloomfield, E
1919-20 MacDonald dir
Behrens, George, Bloomfields
1918-19 MacDonald dir
Behrens, George, Bloomfields
1917-18 MacDonald dir
Maxwell, Mrs, Bloomfield
1916-17 MacDonald dir
Maxwell, Mrs, Bloomfield
1915-16 MacDonald dir
Maxwell, Mrs, Bloomfield
1915-16 dir
Maxwell, Mrs James, Bloomfield, East Newport
1915 Slater dir
Maxwell Mrs. Bloomfield, E
1914-15 MacDonald dir
Maxwell, Mrs, Bloomfield
1914-15 dir
Maxwell, Mrs James, Bloomfield, East Newport
1913-14 MacDonald dir
Maxwell, Mrs., Bloomfield
1913-14 dir
Maxwell, Mrs James, Bloomfield, East Newport
1912-13 MacDonald dir
Maxwell, Mrs, Bloomfield
1912-13 dir
Maxwell, Mrs James, Bloomfield, East Newport
1911-12 MacDonald dir
Maxwell, Mrs, Bloomfield
1911-12 dir
Maxwell, Mrs James, Bloomfield, East Newport
1911 Slater dir
Maxwell Mrs. Bloomfield, E
1910-11 MacDonald dir
Maxwell, Mrs, Bloomfield
1910-11 dir
Maxwell, Mrs James, Bloomfield, East Newport
1908 Tayside Annual
Maxwell, Mrs Helen, Bloomfield, E.
1907 Tayside Annual
Maxwell, Mrs Helen, Bloomfield, E.
1907 Slater dir
Maxwell Mrs. Bloomfield, E
1899-00 dir
Brown, Mrs David, Bloomfield house, East Newport
1898-99 dir
Brown, David, Bloomfield house, East Newport
1898-99 dir
Maxwell, Mrs, Bloomfield
1897-98 dir
Brown, David, Bloomfield house. East Newport
1896-97 dir
Brown, David, Bloomfield house, East Newport
1896 Slater dir
Brown David, householder, Bloomfield ho. E [under Commercial]
1895-96 dir
Brown, David, Bloomfield house, East Newport
1894-95 dir
Brown, David, Bloomfield house, William street, East Newport
1893-94 dir
Brown, David, Bloomfield house, William street, East Newport
1893 Slater dir
Brown Mr. David, Bloomfield House, E N
1892-93 dir
Brown, David, Bloomfield house, William street, East Newport
1891-92 dir
Brown, David, cashier, Bloomfield house, William street, East Newport
1890-91 dir
Brown, David, cashier, Bloomfield house, East Newport
1889-90 dir
Brown, David, cashier, Bloomfield house. East Newport
1889 Slater dir
Brown Mr David, Bloomfield House, East Newport, Fife
1888-89 dir
Brown, David, cashier, Bloomfield house. East Newport
1887-88 dir
Brown, David, cashier, Bloomfield house, East Newport
1886-87 dir
Brown, David, cashier, Bloomfield house. East Newport
1886 Slater dir
Brown David, Bloomfield House, Gowrie hill
1882-83 dir
Brown, David (cashier, Cal. Railway, Dundee), Bloomfield, East Newport
1882 Slater dir
Brown David, clerk, Bloomfield House, E N : Miscellaneous.
1878-79 dir
Brown, David(cashier, West Station, Dundee), Bloomfield house, E. Newport
1878 Slater dir
Brown Mr. David, Bloomfield House
1877 Worrall dir
Brown Mr. D., Bloomfield House
1876-77 dir
Brown, David, cashier (West Station, Dundee), Bloomfield, E. Newport
1874-75 dir
Brown, David (cashier, West Station, Dundee), Bloomfield House, East Newport
1873 Slater dir
Brown Mr. David, Bloomfield House, Newport
1871-72 dir
Brown, David (cashier, West Station, Dundee), Bloomfield House
Census records
Valuation Roll entries There are 24 entries
| Year | No. | Property | Proprietor | Tenant | Occupier | Value | | |
| --- | --- | --- | --- | --- | --- | --- | --- | --- |
| 1967-68 | 164 | House | Thomas S Montgomery | | proprietor | 66 | View details | |
| 1964-65 | 164 | House | Thomas S Montgomery | | proprietor | 59 | View details | |
| 1961-62 | 418 | House | Catherine B Willock | | proprietor | 59 | View details | |
| 1957-58 | 298 | House & Garden | Catherine B Willock | | proprietor | 40-0-4 | View details | |
| 1952-53 | 270 | House & Garden | Catherine B Willock | | proprietor | 40-0-4 | View details | |
| 1947-48 | 266 | House & Garden | Catherine B Willock | | proprietor | 40-0-4 | View details | |
| 1942-43 | 272 | House & Garden | Catherine B Willock | | proprietor | 40-0-4 | View details | |
| 1937-38 | 274 | House & Garden | Catherine B Willock | | proprietor | 40-0-4 | View details | |
| 1932-33 | 263 | House & Garden | Catherine B Willock | | proprietor | 40-0-4 | View details | |
| 1927-28 | 254 | House & Garden | Kate B Willock | | proprietor | 40-0-4 | View details | |
| 1922-23 | 228 | House & Garden | Trs of late David Brown per J & J Scrimgeour, solicitors, 54 Seagate, Dundee | George Behrens, bank clerk | same | 40-0-4 | View details | |
| 1917-18 | 218 | House & Garden | Trs of late David Brown per J & J Scrimgeour, solicitors, 54 Seagate, Dundee | George Behrens, bank clerk | same | 28 | View details | |
| 1912-13 | 519 | House & Garden | Trs of late David Brown per J & J Scrimgeour, solicitors, 54 Seagate, Dundee | Mrs Helen Maxwell | same | 28 | View details | |
| 1907-08 | 499 | House & Garden | Trs of late David Brown per Mrs Anne Brown or Scott, 2 Roseangle Tce, Dundee | Mrs Helen Maxwell | same | 28 | View details | |
| 1903-04 | 479 | House and Garden | Trs of late David Brown per Mrs Anne Brown or Scott, 2 Roseangle Terrace, Dundee | Mrs Helen Maxwell | same | 28 | View details | |
| 1900-01 | 1057 | House and Garden | Mrs Anne Brown or Scott, 2 Roseangle Terrace, Dundee | Mrs Helen Maxwell | same | 28 | View details | |
| 1896-97 | 937 | House and Garden | David Brown, retired | | proprietor | 24 | View details | |
| 1893-94 | 832 | House and Garden | David Brown, clerk | | proprietor | 24 | View details | |
| 1889-90 | 725 | House and Garden | David Brown, clerk, Dundee | | proprietor | 24 | View details | |
| 1885-86 | 689 | House and Garden | David Brown, clerk, Dundee | | proprietor | 26 | View details | |
| 1881-82 | 579 | House and Garden | David Brown, clerk, Dundee | | Said David Brown | 26 | View details | |
| 1878-79 | 548 | House and Garden | David Brown, clerk, Dundee | | Said David Brown | 28 | View details | |
| 1875-76 | 433 | House and Garden | David Brown, clerk, Dundee | | Said David Brown | 28 | View details | |
| 1871-72 | 390 | House and Garden | David Brown, cashier, goods dept, Caledonian Railway | | David Brown, clerk | 25 | View details | |
Sasines pre-1900:
Sasine Plots:
Sasine Abridgements:
| Ref | In Brief | Abridgement | Recorded | Plots | |
| --- | --- | --- | --- | --- | --- |
| 1869.00569 | loan by William Martin | Bond £300 by David Brown, cashier, Goods Dept, Caledonian Railway & disp security consent of Trs late Finlay McGillivray to William Martin of 37 poles grnd with ho t/on, : E property of Free Church, Newport | 4 Aug 1869 | 244 | |
| 1869.00082 | Trs F McGillivray to David Brown (37 poles) | Feu disp by Trs late Finlay McGillivray (including his children … Ann McGillivray or Brown & her husband David Brown, cashier of the Goods Dept, Caledonian Railway, residing in Dundee … ) to said David Brown of 37 poles grnd, : W by a wall, : E by property of the Free Church, Newport, : S by a wall | 12 Feb 1869 | 244, 75 | |
Brief explanation of sasine abridgements Explanation of the format of a sasine
Abbreviations in the notes
t/on - thereon; t/p - turnpike; dw - dwelling; ho - house; pt - part; pce - piece; grnd - ground; bldg - building; Tr/Trs - Trustee/Trustees; ... - words omitted; pol - poles; yd - square yards; : - bounded
Return to: Home Page Present-day Addresses Old House Names Directories Valuation Rolls Census