Location : 38 West Road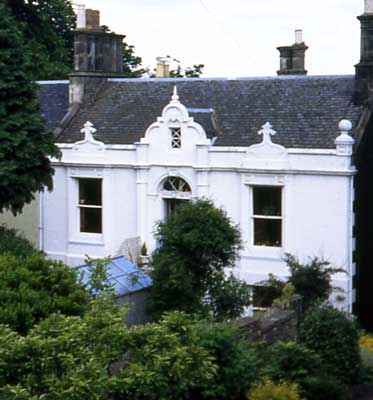 = Property still standing
Data linkage not complete. Until it is, treat the information as tentative. For Directory entries, Census records and Valuation Roll entries, there may be other entries not listed here.
Notes: upper
Other properties at the same location : 36 West Road
Location and Old Maps
Latitude, longitude: 56.434904,-2.950232
View location on the 1855 6-inch map, the 1895 25-inch map, or a 1944-50 aerial photograph at the National Library of Scotland website.
Old Addresses (any dates are approximate and are usually the latest occurence of the address)
| | | |
| --- | --- | --- |
| Newburgh Road, West Newport | 1961 | |
House Names (any dates are approximate and are usually the latest occurence of the name)
Directory entries (before 1968) There are 87 entries
Source
Entry
1967 dir
Napier, Douglas, 38 West road
1966 dir
Napier, Douglas (solicitor, Dundee), 38 West road
1965 dir
Napier, Douglas (solicitor, Dundee), 38 West road
1964 dir
Napier, Douglas (solicitor, Dundee), The Terrace
1963 dir
Napier, Douglas (solicitor, Dundee), The Terrace
1962 dir
Napier, Douglas (solicitor, Dundee), The Terrace
1961 dir
Napier, Douglas (solicitor, Dundee), The Terrace
1960 dir
Napier, Douglas (solicitor, Dundee), The Terrace
1958-59 dir
Napier, Douglas (solicitor, Dundee), The Terrace
1957-58 dir
Napier, Douglas (solicitor, Dundee), The Terrace
1956-57 dir
Napier, Douglas (solicitor, Dundee), The Terrace
1955-56 dir
Napier, Douglas (solicitor, Dundee), The Terrace, West Newport
1953-54 dir
Fearn, John, Chauffeur, The Terrace, Newburgh road, West Newport
1952-53 dir
Fearn, John, chauffeur, The Terrace, Newburgh road, West Newport
1951-52 dir
Fearn, John, chauffeur, The Terrace, Newburgh road, West Newport
1950-51 dir
Fearn, John, chauffeur, The Terrace, Newburgh road, West Newport
1949-50 dir
Fearn, John, chauffeur, The Terrace, Newburgh road, West Newport
1948-49 dir
Fearn, John, chauffeur, The Terrace, Newburgh road, West Newport
1947-48 dir
Fearn, John, chauffeur, The Terrace, Newburgh road, West Newport
1946-47 dir
Fearn, John, chauffeur, The Terrace, Newburgh road, West Newport
1942-43 dir
Fearn, John, chauffeur, The Terrace, Newburgh road, West Newport
1941-42 dir
Fearn, John, chauffeur, The Terrace, Newburgh road, West Newport
1940-41 dir
Fearn, John, chauffeur, The Terrace, Newburgh road, West Newport
1939-40 dir
Fearn, John, chauffeur, The Terrace, Newburgh road, West Newport
1938-39 dir
Strachan, Miss, The Terrace, Newburgh road, West Newport
1937-38 dir
Strachan, Miss, The Terrace, Newburgh road, West Newport
1936-37 dir
Strachan, Miss, The Terrace, Newburgh road, West Newport
1935-36 dir
Strachan, Miss, The Terrace, Newburgh road, West Newport
1934-35 dir
Strachan, Miss, The Terrace, Newburgh road, West Newport
1933-34 dir
Strachan, Miss, The Terrace, Newburgh road, West Newport
1932-33 dir
Strachan, Miss, The Terrace, Newburgh road, West Newport
1931-32 dir
Strachan, Miss, The Terrace, Newburgh road, West Newport
1930-31 dir
Strachan, Miss, The Terrace, Newburgh road, Wrest Newport
1929-30 dir
Strachan, Miss, The Terrace, Newburgh road, West Newport
1928-29 dir
Strachan, Miss, The Terrace, Newburgh road, West Newport
1928 Kelly dir
Strachan Miss, The Terrace, W
1927-28 dir
Strachan, Miss, The Terrace, Newburgh road, West Newport
1926-27 dir
Strachan, Miss, The Terrace, Newburgh road, West Newport
1925-26 dir
Strachan, Miss, The Terrace, Newburgh road, West Newport
1923-24 dir
Strachan, Miss, The Terrace, Newburgh road, West Newport
1922-23 dir
Strachan, Miss, The Terrace, Newburgh road. West Newport
1921 Slater dir
Strachan Miss, The Terrace, W
1920-21 dir
Strachan, Miss, The Terrace, Woodhaven road, West Newport
1918-19 dir
Strachan, Miss, The Terrace, Woodhaven road, West Newport
1915-16 dir
Strachan, Miss, The Terrace, Woodhaven road, West Newport
1915 Slater dir
Strachan Miss. The Terrace. W
1914-15 dir
Strachan, Miss, The Terrace, West Newport
1913-14 dir
Strachan, Miss, The Terrace, West Newport
1912-13 dir
Strachan, Miss, The Terrace, West Newport
1911-12 dir
Strachan, Miss, The Terrace, West Newport
1911 Slater dir
Strachan Miss, The Terrace, W
1910-11 dir
Strachan, Miss, The Terrace, West Newport
1909-10 dir
Strachan, Miss, The Terrace, West Newport
1908-09 dir
Strachan, Miss, The Terrace, West Newport
1908 Tayside Annual
Strachan, Miss, The Terrace, W.
1907-08 dir
Strachan, Miss, The Terrace, West Newport
1907 Tayside Annual
Strachan, Miss, The Terrace, W.
1907 Slater dir
Strachan Miss, The Terrace, W
1906-07 dir
Strachan, Miss, The Terrace, West Newport
1905-06 dir
Strachan, Miss, The Terrace, West Newport
1904-05 dir
Strachan, Alexander, The Terrace, West Newport
1903-04 dir
Strachan, Alexander, The Terrace, West Newport
1903 Slater dir
Strachan Alexander, The Terrace, W Newport
1902-03 dir
Strachan, Alexander, The Terrace, West Newport
1901-02 dir
Strachan, Alexander, The Terrace, West Newport
1900-01 dir
Strachan, Alexander, The Terrace, West Newport
1899-00 dir
Strachan, Alexander, The Terrace, West Newport
1899 Slater dir
Strachan Alexander, The Terrace, W
1898-99 dir
Strachan, Alexander, The Terrace, West Newport
1897-98 dir
Strachan, Alexander, The Terrace, West Newport
1896-97 dir
Strachan, Alexander, The Terrace, West Newport
1896 Slater dir
Strachan Alexander, The Terrace, W
1895-96 dir
Strachan, Alexander, The Terrace, West Newport
1894-95 dir
Strachan, Alexander, The Terrace, West Newport
1893-94 dir
Strachan, Alexander, The Terrace, West Newport
1893 Slater dir
Strachan Mr. Alexander, The Terrace, W N
1892-93 dir
Strachan, Alexander, The Terrace, West Newport
1891-92 dir
Strachan, Alexander, The Terrace, West Newport
1890-91 dir
Strachan, Alexander, The Terrace, West Newport
1889-90 dir
Strachan, Alexander, The Terrace, West Newport
1889 Slater dir
Strachan Mr -, The Terrace, West Newport, Fife
1888-89 dir
Strachan, Alexander, The Terrace, West Newport
1887-88 dir
Strachan, Alexander, The Terrace, West Newport
1882-83 dir
Beatts, John M. , auctioneer, The Terrace, West Newport
1882 Slater dir
Beatts Mr. John M., The Terrace, W N
1878-79 dir
M'Cheyne, John (tailor and clothier, Dundee), The Terrace, W. Newport
1878 Slater dir
M'Cheyne Mr. John, The Terrace, W N
Census records
Valuation Roll entries There are 28 entries
| Year | No. | Property | Proprietor | Tenant | Occupier | Value | | |
| --- | --- | --- | --- | --- | --- | --- | --- | --- |
| 1967-68 | | | | | Napier | | | |
| 1964-65 | 1061 | House | Douglas Napier | | proprietor | 67 | View details | |
| 1961-62 | 2816 | House | Douglas Napier | | proprietor | 67 | View details | |
| 1957-58 | 1108 | House & Garden | Douglas Napier | | proprietor | 25 | View details | |
| 1952-53 | 1073 | House & Garden | John Fearn & spouse | | proprietor | 25 | View details | |
| 1947-48 | 1040 | House & Garden | John Fearn & spouse | | proprietor | 25 | View details | |
| 1942-43 | 1021 | House & Garden | John Fearn & spouse | | proprietor | 25 | View details | |
| 1937-38 | 1038 | House & Garden | John Fearn & spouse | | Glennie Strachan | 25 | View details | |
| 1932-33 | 955 | House & Garden | Glennie Strachan | | proprietor | 30 | View details | |
| 1927-28 | 942 | House & Garden | Glennie Strachan | | proprietor | 30 | View details | |
| 1922-23 | 896 | House & Garden | Glennie Strachan | | proprietor | 26-13-4 | View details | |
| 1917-18 | 873 | House & Garden | Miss Glennie Strachan | | proprietor | 20 | View details | |
| 1912-13 | 784 | House & Garden | Miss Glennie Strachan | | proprietor | 20 | View details | |
| 1907-08 | 764 | House & Garden | Miss Glennie Strachan | | proprietor | 20 | View details | |
| 1903-04 | 732 | House and Garden | Miss Glennie Strachan | | proprietor | 20 | View details | |
| 1900-01 | 520 | House and Garden | Miss Glennie Strachan | | proprietor | 20 | View details | |
| 1896-97 | 417 | House and Garden | Miss Glennie Strachan, c/o Alex. Strachan, retired spirit dealer | Alexander Strachan, retired spirit dealer | same | 20 | View details | |
| 1893-94 | 334 | House and Garden | Miss Glennie Strachan, c/o Alex. Strachan, retired spirit dealer | Alexander Strachan, retired spirit dealer | same | 20 | View details | |
| 1889-90 | 266 | House and Garden | Mrs Barbara Just per David Mackie, factor, Tayfield | Alexander Strachan, spirit dealer | same | 19-19-0 | View details | |
| 1885-86 | 242 | House and Garden | Mrs Barbara Just per David Mackie, factor, Tayfield | James L Keith, residenter | same | 19-19-0 | View details | |
| 1881-82 | 149 | House and Garden | Widow Barbara Just | same | John M Beatts, auctioneer | 18 | View details | |
| 1878-79 | 153 | House and Garden | Widow Barbara Just | same | John M'Cheyne, clothier | 27 | View details | |
| 1875-76 | 153 | House and Garden | Widow Barbara Just | same | Donald Campbell, teacher | 26 | View details | |
| 1871-72 | 147 | House and Garden | Barbara Just, widow | | Barbara Just | 23 | View details | |
| 1867-68 | 152 | House and Garden | Mrs Barbara Just, widow | | Alexander Cameron, merchant | 23 | View details | |
| 1864-65 | 139 | House and Garden | Mrs Barbara Just, widow | | Alexander Cameron, merchant | 21 | View details | |
| 1860-61 | 128 | House and Garden | Children of John Just, builder | | Mr Lithgow, merchant | 21 | View details | |
| 1855-56 | 192 | House and Garden | John Just, builder, Newport | Mrs A Neish | said Mrs A Neish | 21 | View details | |
Sasines pre-1900:
Return to: Home Page Present-day Addresses Old House Names Directories Valuation Rolls Census