Location : Pluck-the-Crow [east], West Road
Data linkage not complete. Until it is, treat the information as tentative. For Directory entries, Census records and Valuation Roll entries, there may be other entries not listed here.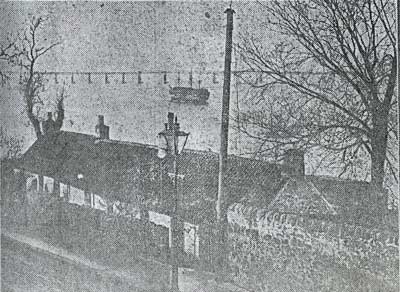 = Property demolished or site redeveloped
Notes: From 1896 until demolition, it is listed in valuation rolls as 2 properties, both empty.
Location and Old Maps
Latitude, longitude: 56.433448,-2.954218
View location on the 1855 6-inch map, the 1895 25-inch map, the 1966 25-inch map, or a 1944-50 aerial photograph at the National Library of Scotland website.
1854 Ordnance Survey Name Book Entry (originals at ScotlandsPlaces) (more information on the O.S. Name Books page)
| | | | | | | |
| --- | --- | --- | --- | --- | --- | --- |
| List of names to be corrected if necessary | Orthography, as recommended to be used in the new plans | Other modes of spelling the name | Authorities for these other modes of spelling when known | Situation | Descriptive remarks or other general observations which may be considered of interest | Source |
| Pluck the Crow | Pluck the Crow | Pluck the Crow; Pluck the Crow | John Berry Esq. Tayfield; Mr. Smith, Factor, Chapelhouse | In the West end of the Village of Newport. | A row of cottages of one story high and in good repair, with gardens attached. Occupied by labouring people. Feued from John Berry Esq. of Tayfield. | OS1/13/33/41 |
Old Addresses (any dates are approximate and are usually the latest occurence of the address)
| | | |
| --- | --- | --- |
| Newburgh Road, West Newport | | |
| Newburgh Road, West Newport | 1961 | |
House Names (any dates are approximate and are usually the latest occurence of the name)
| | | |
| --- | --- | --- |
| Pluck the Crow [east] | | |
| Pluck-the-Craw | | |
Directory entries (before 1968)
Census records
Valuation Roll entries There are 13 entries
| Year | No. | Property | Proprietor | Tenant | Occupier | Value | | |
| --- | --- | --- | --- | --- | --- | --- | --- | --- |
| 1932-33 | 980 | House & Garden | William Berry per Hagart & Burn Murdoch WS, 10 Atholl Cresc, Edinburgh | | William Mason | 6 | View details | |
| 1927-28 | 966 | House & Garden | William Berry per Hagart & Burn Murdoch WS, 10 Atholl Cresc, Edinburgh | | William Mason | 6 | View details | |
| 1922-23 | 919 | House & Garden | William Berry per Hagart & Burn Murdoch WS, 140 Princes St, Edinburgh | William Mason | same | 6 | View details | |
| 1917-18 | 896 | House & Garden | William Berry per Hagart & Burn Murdoch WS, 140 Princes St, Edinburgh | David Mason, clerk | same | 6 | View details | |
| 1912-13 | 682 | House & Garden | William Berry per Hagart & Burn Murdoch WS, 140 Princes St, Edinburgh | David Mason, clerk | same | 6 | View details | |
| 1907-08 | 663 | House & Garden | William Berry per Hagart & Burn Murdoch WS, 140 Princes St, Edinburgh | David Mason, clerk | same | 6 | View details | |
| 1903-04 | 636 | House and Garden | William Berry Esq. per Haggart & Burn Murdoch, WS, 140 Princes St, Edinburgh | Henry Heggie, mason | same | 6 | View details | |
| 1900-01 | 411 | House and Garden | William Berry Esq. per Haggart & Burn Murdoch, WS, 140 Princes St, Edinburgh | Henry Heggie, mason | same | 6 | View details | |
| 1896-97 | 312 | House and Garden | William Berry Esq. per Haggart & Burn Murdoch, WS, 140 Princes St, Edinburgh | Henry Heggie, mason | same | 6 | View details | |
| 1893-94 | 115 | House and Garden | William Berry Esq. per Haggart & Burn Murdoch, WS, 140 Princes St, Edinburgh | Henry Heggie, mason | same | 6 | View details | |
| 1889-90 | 109 | House and Garden | William Berry Esq. per Haggart & Burn Murdoch, WS, 140 Princes St, Edinburgh | Henry Heggie, mason | same | 6 | View details | |
| 1885-86 | 101 | House and Garden, Pluck-the-Craw | William Berry Esq. per Haggart & Burn Murdoch, WS, Edinburgh | Henry Heggie, mason | same | 6 | View details | |
| 1881-82 | 50 | House and Garden, Pluck-the-Craw | William Berry Esq. (a minor), per J D Hannan, factor | same | | 5 | View details | |
Sasines pre-1900:
Return to: Home Page Present-day Addresses Old House Names Directories Valuation Rolls Census