Location : 30 West Road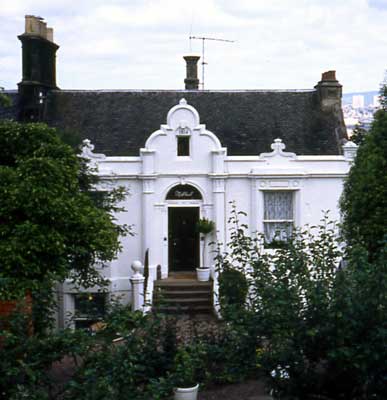 = Property still standing
Data linkage to other information currently on this site is practically complete. For Directory entries, Census records and Valuation Roll entries, there may be a few other entries not listed here.
Notes: dated 1854 ; upper
Other properties at the same location : 28 West Road
Location and Old Maps
Latitude, longitude: 56.434995,-2.94994
View location on the 1855 6-inch map, the 1895 25-inch map, or a 1944-50 aerial photograph at the National Library of Scotland website.
Old Addresses (any dates are approximate and are usually the latest occurence of the address)
| | | |
| --- | --- | --- |
| Newburgh Road, West Newport | 1961 | |
House Names (any dates are approximate and are usually the latest occurence of the name)
Directory entries (before 1968) There are 73 entries
Source
Entry
1964 dir
Millar, Douglas, motor mechanic, The Terrace, Newburgh road
1963 dir
Millar, Douglas, motor mechanic, The Terrace, Newburgh road
1962 dir
Millar, Douglas, motor mechanic, The Terrace, Newburgh road
1961 dir
Millar, Douglas, motor mechanic, The Terrace, Newburgh road
1960 dir
Millar, Douglas, motor mechanic, The Terrace, Newburgh road
1958-59 dir
Millar, Douglas, motor mechanic, The Terrace, Newburgh road
1957-58 dir
Millar, Douglas, motor mechanic, The Terrace
1956-57 dir
Millar, Douglas, motor mechanic, The Terrace
1955-56 dir
Millar, Douglas, motor mechanic, The Terrace. W. Newport
1954-55 dir
Beatt, Charles W., of Beatt & Tait, The Terrace, West Newport
location 2
1953-54 dir
Beatt, Charles W., of Beatt & Tait, The Terrace, West Newport
location 2
1952-53 dir
Beatt, Charles W., of Beatt & Tait, The Terrace, West Newport
location 2
1951-52 dir
Beatt, Charles W., of Beatt & Tait, The Terrace, West Newport
location 2
1950-51 dir
Beatt, Charles W., of Beatt & Tait, The Terrace, West Newport
location 2
1949-50 dir
Beatt, Charles W., of Beatt & Tait, The Terrace, West Newport
location 2
1949-50 dir
Beatt, Richard W., The Terrace, West Newport
1948-49 dir
Beatt, Charles W., of Beatt & Tait, The Terrace, West Newport
location 2
1947-48 dir
Beatt, Charles W., of Beatt & Tait, The Terrace, West Newport
location 2
1946-47 dir
Beatt, Charles W., of Beatt & Tait, The Terrace, West Newport
location 2
1942-43 dir
Beatt, Charles W., of Beat & Tait, The Terrace, West Newport
location 2
1942-43 dir
Beatt, Richard, clerk, The Terrace, West Newport
1941-42 dir
Beatt, Charles W., of Beatt & Tait, The Terrace
location 2
1941-42 dir
Beatt, Richard, clerk, The Terrace, West Newport
1940-41 dir
Beatt, Richard, clerk, The Terrace, West Newport
1940-41 dir
M'Kerrow, Miss Jean; stationer and tobacconist, High street ; h. 1 High street, West Newport
1940-41 dir
Beatt, Charles W., of Beatt & Tait, The Terrace, West Newport
location 2
1939-40 dir
M'Kerrow, Miss Jean, stationer and tobacconist, High street ; h. The Terrace, West Newport
1936-37 dir
Keay, Joseph D., painter and decorator, Newburgh road (Telephone No. N. 247); h. The Terrace, Newburgh road, West Newport
1935-36 dir
Keay, Joseph D., painter and decorator, Newburgh road (Telephone No. N. 247); h. The Terrace, Newburgh road, West Newport
1934-35 dir
Keay, Joseph D., painter and decorator, Newburgh road (Telephone No. N. 247); h. The Terrace, Newburgh mad, West Newport
1933-34 dir
Keay, Joseph D., painter and decorator, Newburgh road (Telephone No. N. 247); h. The Terrace, Newburgh road, West Newport
1932-33 dir
Keay, Joseph S., painter and decorator, Newburgh road ; h. The Terrace, Newburgh road, West Newport
1931-32 dir
Keay, Joseph D., painter and decorator, Newburgh road ; h. The Terrace, Newburgh road, West Newport
1930-31 dir
Keay, Joseph, jun., painter and decorator, Graham place, Newburgh road ; h. The Terrace, Newburgh road, West Newport
1929-30 dir
Keay, Joseph, jun., painter and decorator, Graham place, Newburgh road ; h. The Terrace, Newburgh road, West Newport
1928-29 dir
Keay, Joseph, jun., painter and decorator, Graham place, Newburgh road ; h. The Terrace, Newburgh road, West Newport
1927-28 dir
Keay, Joseph, jun., painter and decorator, Graham place, Newburgh road ; h. The Terrace, Newburgh road, West Newport
1926-27 dir
Keay, Joseph, jun., painter and decorator, Graham place, Newburgh road ; h. The Terrace, Newburgh road, West Newport
1925-26 dir
Keay, Joseph, jun., painter and decorator, Graham place, Newburgh road ; h. The Terrace, Newburgh road, West Newport
1923-24 dir
Keay, Joseph, jun., painter and decorator, Graham place, Newburgh road ; h. The Terrace, Newburgh road, West Newport
1913-14 dir
Weekes, Joseph, burgh surveyor and sanitary inspector, Blyth buildings ; h. The Terrace, West Newport
1912-13 dir
Weekes, Joseph, burgh surveyor and sanitary inspector, Blyth Hall buildings ; h. The Terrace, West Newport
1909-10 dir
Johnstone, J. (music seller, Dundee), The Terrace, West Newport
1908-09 dir
Johnstone, J. (musicseller, Dundee), The Terrace, West Newport
1907-08 dir
Johnstone, J. (musicseller, Dundee), The Terrace, West Newport
1903-04 dir
Marquis, Cecil J. (accountant, Dundee), The Terrace, West Newport
1903 Slater dir
Marquis Cecil John, The Terrace, W Newport
1902-03 dir
Marquis, Cecil J. (accountant, Dundee), The Terrace, West Newport
1901-02 dir
Marquis, Cecil J. (accountant, Dundee), The Terrace, West Newport
1900-01 dir
Marquis, Cecil J. (accountant, Dundee), The Terrace, West Newport
1899-00 dir
Marquis, Cecil J. (accountant, Dundee), The Terrace, West Newport
1899 Slater dir
Marquis Cecil John, The Terrace, W
1897-98 dir
Harris, John (solicitor, Dundee), The Terrace, West Newport
1896-97 dir
Harris, John (solicitor, Dundee), The Terrace, West Newport
1895-96 dir
Harris, John (solicitor, Dundee), The Terrace, West Newport
1894-95 dir
Harris, John (solicitor, Dundee), The Terrace, West Newport
1893-94 dir
Harris, John (solicitor, Dundee), The Terrace, West Newport
1892-93 dir
Harris, John (solicitor, Dundee), The Terrace, West Newport
1889 Slater dir
Brown Mr William, The Terrace, West Newport, Fife
1887-88 dir
Fisher, W. M., L.D.S., R.C.S., Eng. (dental surgeon, Dundee), The Terrace, West Newport
1886-87 dir
Fisher, William, L.D.S., R.C.S., Eng. (dental surgeon, Dundee), The Terrace, West Newport
1886 Slater dir
Fisher William, The Terrace, W N
1885-86 dir
Fisher, William, L.D.S., R.C.S., Eng. (dental surgeon, Dundee), The Terrace, West Newport
1884-85 dir
Fisher, William, L.D.S., R.C.S., Lond. (dental surgeon, Dundee), The Terrace, West Newport
1882-83 dir
Blacklaws, John (cabinetmaker, Dundee), The Terrace, West Newport
1878 Slater dir
Don Mr. James, The Terrace, Newport
1877 Worrall dir
Don Mr. James, The Terrace, W
1876-77 dir
Don, James (glass and china mercht., Dundee), The Terrace, W. Newport
1874-75 dir
Don, James (china merchant, Dundee), Terrace, West Newport
1873 Slater dir
Don Mr. James, the Terrace, Newport
1871-72 dir
Don, Jas. (china merchant, Dundee), The Terrace
1869-70 dir
Ramsay, James (jeweller, Dundee), The Terrace West Newport
1867-68 dir
Jobson, David, (oil merchant), The Terrace, West Newport
Census records
Valuation Roll entries There are 27 entries
| Year | No. | Property | Proprietor | Tenant | Occupier | Value | | |
| --- | --- | --- | --- | --- | --- | --- | --- | --- |
| 1967-68 | 1065 | House | Mr & Mrs Douglas H Millar | | proprietor | 51 | View details | |
| 1964-65 | 1065 | House | Mr & Mrs Douglas H Millar | | proprietor | 60 | View details | |
| 1961-62 | 2811 | House | Mr & Mrs Douglas H Millar | | proprietor | 60 | View details | |
| 1957-58 | 1103 | House & Garden | Douglas H Millar & spouse | | proprietor | 32-6-10 | View details | |
| 1952-53 | 1069 | House & Garden | Agnes wife of Frank H Fairweather, 4 Struan Place, E Newport | | Charles Beatt | 32-6-10 | View details | |
| 1947-48 | 1036 | House & Garden | Charles Graham, 2 Stewart St, Lochee, Dundee | | Charles Beatt | 32-6-10 | View details | |
| 1942-43 | 1017 | House & Garden | Charles Graham, 2 Stewart St, Lochee, Dundee | | Charles Beatt | 32-6-10 | View details | |
| 1937-38 | 1034 | House & Garden | Charles Graham, Ashcliffe, W Newport | | James T McKerrow, traveller | 32-6-10 | View details | |
| 1932-33 | 951 | House & Garden | Charles Graham, Ashcliffe, W Newport | | Joseph D Keay, painter | 32-6-10 | View details | |
| 1927-28 | 938 | House & Garden | Charles Graham, Ashcliffe, W Newport | | Joseph D Keay, painter | 32-6-10 | View details | |
| 1922-23 | 892 | House & Garden | Peter F Husband & James Husband, solicitors, Dundee | William H Kynaston | same | 32-6-10 | View details | |
| 1912-13 | 790 | House & Garden | Peter F Husband & James Husband, solicitors, Dundee | Joseph Weekes, burgh surveyor | same | 19-19-0 | View details | |
| 1907-08 | 770 | House & Garden | James Johnston, musicseller | | proprietor | 28 | View details | |
| 1903-04 | 737 | House and Garden | David Just, retired builder, Japonica Cottage, West Newport | Cecil J Marquis, accountant | same | 28 | View details | |
| 1900-01 | 525 | House and Garden | David Just, retired builder, Forgan Cottages, Newport | Cecil J Marquis, accountant | same | 28 | View details | |
| 1896-97 | 423 | House and Garden | David Just, retired builder, Forgan Cottages, Newport | John Harris, solicitor, Dundee | same | 26 | View details | |
| 1893-94 | 339 | House and Garden | David Just, retired builder, Forgan Cottages, Newport | John Harris, solicitor, Dundee | same | 26 | View details | |
| 1889-90 | 271 | House and Garden | David Just, retired builder, Upper Friarton, Newport | William Brown, corn merchant | same | 26 | View details | |
| 1885-86 | 247 | House and Garden | David Just, joiner | William McPherson Fisher, dentist | same | 26 | View details | |
| 1881-82 | 154 | House and Garden | David Just, joiner | same | John B Blacklaws, cabinetmaker | 24 | View details | |
| 1878-79 | 157 | House and Garden | David Just, joiner | same | Sydney, J., and Cecil Marquis | 35 | View details | |
| 1875-76 | 157 | House and Garden | David Just, joiner | same | James Don, china merchant | 34 | View details | |
| 1871-72 | 153 | House and Garden | David Just, joiner | | John Don, china merchant | 28 | View details | |
| 1867-68 | 158 | House and Garden | David Just, joiner, Newcastle | | - Jobson, oil agent | 26 | View details | |
| 1864-65 | 145 | House and Garden | David Just, joiner | | William R Ireland, clerk | 26 | View details | |
| 1860-61 | 132 | House and Garden | David Just, joiner | | Miss Rolland | 24 | View details | |
| 1855-56 | 196 | House and Garden | David Just, joiner, Newport | Walter Scott Russell, merchant | said Walter Scott Russell, | 23 | View details | |
Sasines pre-1900:
Sasine Plots:
| | | | | | |
| --- | --- | --- | --- | --- | --- |
| Plot: 216 | Broadhaugh | | 54 poles 20.5 yds [sometimes quoted as 20.25 yds] | on N of High Road, Newport to Woodhaven | view plot details |
| Plot: 226 | Broadhaugh | | E half of 54 poles 20.5 yds | | view plot details |
Sasine Abridgements:
| Ref | In Brief | Abridgement | Recorded | Plots | |
| --- | --- | --- | --- | --- | --- |
| 1904.00793 | Trs David Just to James Johnston | Disp by Trs dec David Just formerly joiner Newport residing High Street to James Johnston of E-most half & bldgs t/on of 54 pol 20.5 yds grnd, bounded W & E by mutual passages 3.5' wide, bounded S by high road Newport - Woodhaven, bounded N by River Tay, part of Broadhaugh described in sasine 15 Sep 1853 | 17 May 1904 | 216, 226 | |
| 1903.02177 | David Just to Trs | Not Instr Trs David Just formerly joiner Newport latterly residing High Street there sometime designated wright Newport, of 54 pol 20.5 yds grnd & ho etc t/on, bounded W & E by mutual passages 3.5' wide, bounded S by High Road Newport - Woodhaven, bounded N by River Tay, pt of (1) E half of small park of land (2) pce of grnd, both parts of Croft called Broadhaugh | 10 Nov 1903 | 216 | |
| 1872.01496 | David Just to James David Grant | Disp by David Just to James David Grant of W-most half & ho t/on of 54 pol 20.5 yds grnd, bounded S by High Road, bounded N by River Tay | 24 Jul 1872 | 227, 216 | |
| 1854.02403 | loan by Trs Margaret Johnston / Jolly | Trs Margaret Johnston relict John Jolly get bond & disp £400 by David Just younger, wright, over 50 poles 20.25 yds grnd & ho etc pt of croft of Broadhaugh | 16 Jan 1854 | 216 | |
| 1853.02182 | David Just sen to David Just jun | David Just wright seised 54 poles 20.5 yds grnd & ho etc on N side of High Road Newport to Woodhaven pt of croft of Broadhaugh on feu disp by David Just, mason, his father | 15 Sep 1853 | 216 | |
Brief explanation of sasine abridgements Explanation of the format of a sasine
Abbreviations in the notes
t/on - thereon; t/p - turnpike; dw - dwelling; ho - house; pt - part; pce - piece; grnd - ground; bldg - building; Tr/Trs - Trustee/Trustees; ... - words omitted; pol - poles; yd - square yards; : - bounded
Return to: Home Page Present-day Addresses Old House Names Directories Valuation Rolls Census